El Segundo Car Accident Attorney
Car accidents are an unfortunate reality for thousands of California residents each year. Whenever a car accident happens, the drivers involved can face a series of complex legal proceedings involving insurance claims and civil suits for damages. Therefore, if you or a family member recently experienced a car accident due to the negligent or illegal actions of another driver, you must prepare accordingly for the difficult recovery process ahead of you.
Representing Victims of Car Accidents in El Segundo
The attorneys at Shaffer Law routinely provide comprehensive legal representation to victims of car accidents throughout the El Segundo area each year. We know the challenges you face after another driver has injured you and the uncertainty that follows the damages you experienced. Your recovery could entail an insurance claim followed by a personal injury suit against the at-fault driver, and it's best to approach these recovery efforts supported by an experienced attorney you can trust.
Shaffer Law offers client-focused and compassionate legal counsel for victims of car accidents in the El Segundo area. If you are wondering how you will recover from your recent accident and how you can ensure accountability for the damages you suffered, we can help. Our team has successfully represented many clients in all manner of personal injury claims in El Segundo, and we're ready to put this experience to work for your recovery.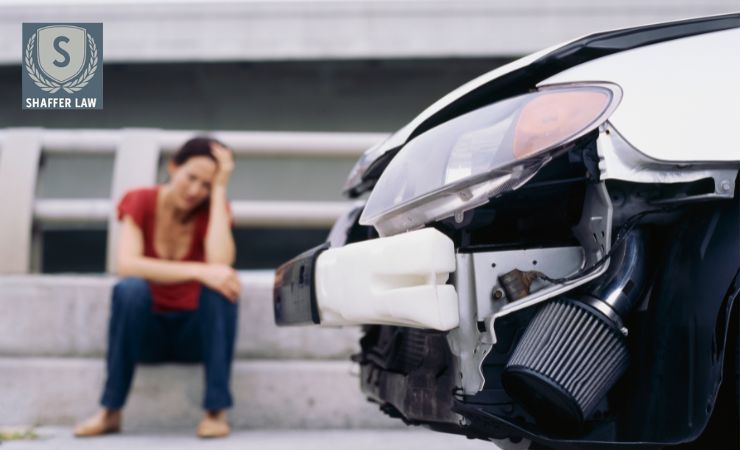 Determining Liability for a Car Accident in El Segundo
If you are certain another party is responsible for the car accident you recently experienced, you must prove fault before you can secure any kind of compensation for your damages. It's possible for your recent accident to have been the result of negligence, or failure to exercise reasonable care. It is also possible for some type of intentional misconduct to have caused your accident, in which case you could face a much tougher series of legal proceedings to ensure full accountability for the losses you suffered.
A few of the most commonly reported causes of motor vehicle accidents in the El Segundo area are:
Distracted driving. This is the leading cause of all car crashes throughout the United States each year. If you believe another party caused your accident because they were distracted behind the wheel, traffic camera recordings, eyewitness statements, and the at-fault driver's cell phone records could all factor into your efforts to prove their liability.
Speeding. Whenever a driver exceeds the speed limit, they increase their chance of causing an accident. Speeding not only dramatically increases the risk of an accident occurring but also the severity of any resulting damages.
Driving under the influence (DUI). Any driver caught operating a vehicle while intoxicated faces penalties, including fines, jail time, and loss of their ability to drive. However, these penalties increase significantly if they hurt or kill anyone due to driving under the influence.
Moving violations. Any driver who intentionally or negligently disrupts the flow of traffic with a moving violation can face liability for a resulting accident. Illegal turns, running red lights, and performing inappropriate lane changes are just a few examples of this behavior.
Vehicle defects. If a vehicle or part is defective and responsible for a crash, the manufacturer is liable for the resulting damages under California's product liability laws. In addition, this type of incident could form part of a larger class-action suit against the manufacturer if multiple drivers experience similar harm from the same defective product.
No matter how your recent accident happened, if another party is responsible for causing it, you must clearly prove fault before you can obtain any form of compensation. Establishing liability is necessary for an insurance claim, and this is usually the first step in your recovery process after any vehicle accident. However, when insurance alone can't cover your losses, or if the at-fault driver does not have insurance coverage, you must proceed with a personal injury claim to secure the compensation you need to recover from your accident.
Filing an Auto Insurance Claim in El Segundo
State law requires every driver to have liability coverage of $15,000 in bodily injury per person injured in an accident they caused, with a $30,000 minimum in total accident liability coverage for all persons injured in a single accident. Additionally, their auto insurance policy must include at least $5,000 in liability coverage for property damage. These coverage requirements may seem like enough for accident coverage for damages, but many drivers, unfortunately, discover that their damages exceed the scope of available insurance coverage. Dealing with insurance company representatives is also difficult due to the fact that these organizations have no incentive to pay out settlements and generally strive to avoid paying out on claims whenever possible.
Having an experienced El Segundo car accident attorney help you with your insurance claim can significantly reduce your chances of facing adverse treatment from the other driver's insurance company. You have a very limited time in which to file your claim after an accident, typically only a few days, but it is best to have legal representation on your side before discussing a settlement with any insurance company. If possible, you should notify the other driver's insurance carrier of your intent to file your claim and then speak with an attorney before actually filing your claim.
An El Segundo car accident attorney will help you draft your demand letter to the insurance carrier, explaining the damages you suffered and outlining your expectations in terms of your recovery. Once the insurance company receives your claim, they will investigate to verify that you have provided true and accurate information before delivering their settlement offer.
Shaffer Law has faced the largest insurance carriers in the state, and we know the tactics they often employ to avoid paying out on claims. We will guide you through each stage of the insurance claim filing process and verify that the insurance company has met all its legal obligations pertaining to your claim. After you obtain your settlement check, we will help you take the next necessary steps in maximizing your total compensation.
How to Build Your Personal Injury Case for a Car Accident
After obtaining as much compensation as you possibly can through insurance, any outstanding losses from your car accident can be recovered through a personal injury suit against the driver responsible for causing the accident. If the accident occurred because of negligence, you must prove that the defendant owed you a duty of care they failed to uphold and directly caused your claimed damages. If the accident happened because of intentional misconduct of any kind, the defendant is likely to face criminal charges from the state alongside your civil claim. Your El Segundo car accident attorney can advise you how their criminal case could influence the outcome of your civil case.
An experienced attorney is the best asset to have on your side when it comes to gathering the evidence needed to prove liability for your damages. For example, you may require physical evidence from the scene of your accident, eyewitness testimony, and even input from various professional experts. When you choose Shaffer Law to represent your personal injury claim, we will help you determine what evidence you will require to firmly establish fault for your damages and prove the full scope of those damages.
Economic Compensation for Your Car Accident
If another driver has injured you and damaged your property in a car accident, it is natural for you to wonder how much compensation you could potentially secure from your recovery efforts. An initial insurance claim can assist you with vehicle repair bills and some immediate medical expenses, but it is unlikely to fully cover the damages resulting from a serious accident. Therefore, your personal injury claim against the at-fault driver is the best legal mechanism at your disposal for maximizing your recovery.
Damages you can claim in a personal injury case include:
Medical treatment costs. The defendant who injured you is fully responsible for all the medical expenses you face after the accident. This includes both immediate and future medical expenses, so if you suffered any catastrophic injury demanding ongoing care, the defendant is liable for all associated treatment costs.
Lost income. The victim of a serious car accident could be left unable to work until they recover from their injuries, in which case the defendant who injured them is responsible for the wages they are unable to earn during this time.
Lost future income. In the event the defendant has injured you so severely that you will be unable to return to your job, they are liable for the future income you are no longer able to earn. An experienced El Segundo car accident attorney could help their client assess these future losses by calculating how much the plaintiff would have reasonably expected to earn in the future if they hadn't been injured.
Property damage. An at-fault driver's auto insurance may only include the minimum $5,000 in liability coverage for property damage required by state law, but even if they have more coverage, it may not fully compensate for the loss of the plaintiff's vehicle. Your attorney can help you secure full repayment of any property losses you experienced because of the defendant's intentional misconduct or negligence.
Once you have an experienced El Segundo car accident attorney handling your case, it may surprise you to learn that your total economic damages, both immediate and future, are much more than you initially expected from your personal injury claim. However, your recovery does not stop there, as state law permits the plaintiff in a personal injury suit to recover pain and suffering compensation as well.
Calculating Pain and Suffering in a California Car Accident Suit
The term "pain and suffering" may sound as though it would be too subjective to put into monetary terms, but there are two methods attorneys typically use to calculate their client's non-economic damages. First, pain and suffering are non-economic damages, and state law does not limit non-economic damages in car accident cases. This could form the bulk of your total case award if you suffered any severe or permanent harm from the defendant's actions.
If you are expected to make a full recovery from your injuries in the near future, your attorney is likely to seek a per diem pain and suffering settlement with the defendant. This would award a set amount of compensation every day until you reach maximum recovery from your injuries. Alternatively, if you suffered a catastrophic injury or experienced any permanent loss from your accident, they are more likely to seek a larger lump sum award calculated by multiplying your total economic losses by a factor representative of the severity of your condition. For example, if you were claiming $200,000 in economic damages and developed a permanent disability from your accident, your attorney might seek several times this amount just in pain and suffering compensation.
What to Expect From an El Segundo Car Accident Attorney
The right attorney can have a tremendous positive impact on your recovery efforts following a serious car accident in El Segundo. Instead of you attempting to handle your civil claim proceedings on your own while also managing your medical needs and your household obligations, you can rest with peace of mind knowing your legal affairs are in capable hands. When you choose Shaffer Law to represent you after a car accident, we will guide you through every stage of your recovery process and provide consistent updates on your case's progress while you rest and recover with confidence.
Our firm will seek to settle your case as swiftly as possible. When a defendant's fault is clear, it benefits both parties to settle the case privately and avoid the stress and expense of litigation. During settlement negotiations, the plaintiff and defendant aim to reach a mutually agreeable resolution to the case at hand. However, if a defendant refuses to accept liability for the plaintiff's damages, the case may need to be resolved in litigation, and the judge will have the final say regarding fault and the plaintiff's total compensation.
Auto Accident Law FAQs
Q: How Much Can an El Segundo Car Accident Attorney Charge Their Client?
A: It's understandable for any car accident victim to be concerned about the potential cost of legal representation when they are already struggling with the economic impact of their accident. However, when you choose Shaffer Law to represent you, we only charge a fee once we win your case, and you only part with a portion of your final recovery. This eliminates the risk of your legal fees eclipsing the total compensation you obtain, and if we cannot secure compensation on your behalf, you pay nothing.
Q: How Much Compensation Can I Expect From a Car Accident Settlement in El Segundo?
A: The total compensation recoverable from your car accident claim hinges on the severity of your damages and many other factors. At the very least, you should expect to recover the total economic damages you incurred and some compensation for your pain and suffering. If you suffered any catastrophic injuries and/or the defendant caused your accident through illegal misconduct, these variables could increase your final compensation substantially.
Q: What Happens if I Bear Partial Liability for My Car Accident?
A: The state upholds the pure comparative negligence rule, which comes into play in any civil claim for damages in which the plaintiff shares fault with the defendant. Each party will have a fault percentage assigned to indicate their level of liability for causing the accident in question. In the event a plaintiff is found partially at fault, their fault percentage is deducted from their case award. For example, bearing 10% fault would mean the plaintiff will lose 10% of the total damages they secure from the defendant.
Q: Will the At-Fault Driver Go to Jail for Causing My Accident?
A: If your recent accident occurred due to simple negligence, the at-fault driver is unlikely to face jail time for causing the incident. However, if they caused the accident through any illegal misconduct, such as driving under the influence, they not only face criminal prosecution for their offense but also increased penalties once convicted. For example, the penalties for DUI automatically increase substantially when the defendant has injured or killed someone with their actions.
Q: Will I Secure a Larger Case Award If I Hire an El Segundo Car Accident Attorney?
A: You can attempt to handle your recovery efforts on your own if you wish, but even after accounting for the cost of hiring an attorney, they can more than likely secure far more compensation for your damages than you could manage alone. The right attorney will not only streamline your case proceedings but also uncover every available avenue of recovery in your claim. When you choose Shaffer Law to represent you, our goal is maximum client recovery in the shortest time possible.
The team at Shaffer Law has successfully represented many car accident victims throughout the years of our firm's operation, and we are ready to put this experience to work for you in your car accident claim. Whatever your case may entail, you can rest assured that our firm will extend the full scope of our professional resources and experience in handling your case. To learn what an experienced El Segundo car accident attorney can do for your recovery, contact us today and schedule your free consultation.