San Pedro Car Accident Attorney
Every day, car accidents happen throughout the San Pedro area for a variety of causes. California enforces the fault rule for resolving car accidents, which means that a driver who causes a crash is liable for all the resulting damages they inflict on others. If another driver is responsible for causing your recent accident, a San Pedro car accident attorney can help navigate the complex legal proceedings that your recovery is likely to entail.
Helping San Pedro Car Accident Victims Recover With Confidence
The attorneys at Shaffer Law have years of experience helping our clients recover from damaging accidents. Whether your recent crash was the result of another driver's failure to exercise reasonable care or illegal misconduct, we will help you prepare for the difficult process of holding them accountable for the damage they inflicted.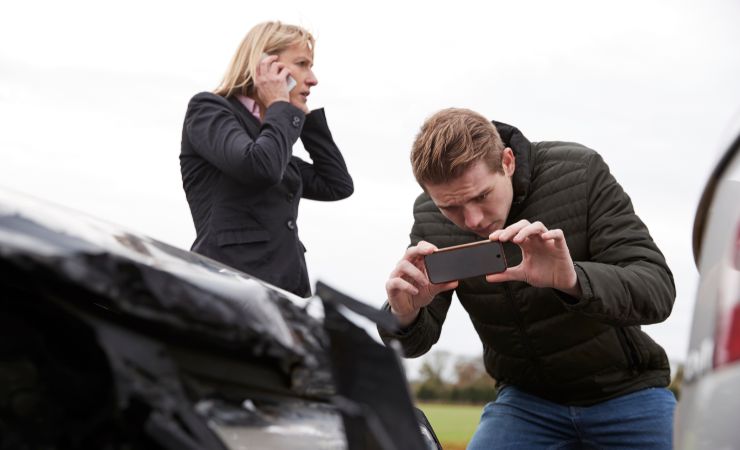 How to Prove Liability for a Car Accident in San Pedro
The state's fault rule requires an injured driver to prove how the accident happened before they can claim any compensation for their damages. This rule applies to both an insurance claim and a subsequent personal injury claim after a car accident. Your San Pedro car accident attorney can be invaluable for gathering any evidence needed to prove liability for the collision you recently experienced. They will also help determine what legal mechanisms are likely to come into play throughout your recovery efforts that may influence your final case award.
Most of the car accidents reported in the San Pedro area are the effects of negligence, or failure of a driver to use reasonable care behind the wheel. When drivers are distracted, commit moving violations, or are otherwise irresponsible in the handling of their vehicles, they can easily cause devastating harm to other motorists. Your San Pedro car accident attorney can help prove the other driver was negligent through traffic camera footage, cell phone records, and eyewitness testimony from anyone who saw the accident happen firsthand.
Unfortunately, many car accidents occur because of intentional and illegal behavior. Driving under the influence (DUI) of drugs or alcohol is the most common example of this, and thousands of drivers suffer harm from DUI accidents each year. The at-fault driver in a DUI crash will face criminal charges alongside an insurance claim and civil suit from the other driver they injured, and their criminal penalties will increase in proportion to the severity of the damages they caused.
Recovering Compensation for Car Accident Damages in San Pedro
Once you have proven the exact cause of your recent car accident, you can proceed with claiming compensation from the at-fault driver. However, it is important to remember that this process is likely to entail two sets of legal proceedings. First will be an insurance claim against the at-fault driver. Every driver is legally required to have auto insurance that meets specific coverage requirements. Unfortunately, the state has a very high rate of uninsured drivers, so there is no guarantee that the at-fault driver will have suitable coverage for your damages.
Your San Pedro car accident attorney will assist you in filing your auto insurance claim, and they can handle any problems that might arise with the at-fault driver's insurance carrier. Most insurance companies will look for ways to fight claims and avoid paying out settlements whenever they can, but they are less likely to attempt the unethical handling of a car accident claim if the claimant has reliable legal representation assisting them. Once you have recovered as much compensation as possible from the auto insurance claim process, the next step in your recovery efforts will be filing a personal injury claim against the at-fault driver.
You have the right to claim full repayment of all the economic losses you suffered from your accident, which may include:
Vehicle repair costs not covered by the defendant's insurance. You can also seek compensation for personal belongings lost in the accident. If your car was damaged beyond repair, your attorney could help you claim compensation for the actual cash value of the vehicle.
Medical expenses, including future medical care, you will require for severe injuries. Car accidents can easily cause broken bones, head injuries, spinal cord damage, and many other wounds that can take months or even years to heal fully. The victim of a serious car accident could face extensive medical complications or permanent disabilities.
Lost income, including lost future earnings, if the defendant's actions have left you disabled and unable to return to work. Your attorney can assist you in calculating projected lost future income resulting from your accident to enhance your recovery.
While the average driver in San Pedro is likely able to assess immediate damages like vehicle repair costs and hospital bills, they may struggle to accurately calculate projected long-term damages resulting from their accident. The plaintiff also has the right to seek pain and suffering compensation, and their attorney will be invaluable in helping them calculate an appropriate amount to reflect the severity of their experience.
When you choose Shaffer Law to represent you in a car accident claim, we will work closely with you to help maximize the case award you obtain from the at-fault driver. Our team has experience facing the largest auto insurance carriers in the state, and we know the tactics they often use to try and deflect liability for claims. We also know how to maximize a client's case award for a personal injury when insurance alone cannot compensate for their losses. Our goal when you choose our firm to handle your case is to help you recover as much compensation as the law allows in the shortest time possible.
Car Accident Lawyers FAQs
Q: Do I Need a Lawyer for a Car Accident?
A: There is no law requiring you to hire legal representation for a car accident case. If you only sustained minor damage to your vehicle, it's possible to resolve the matter by yourself without an attorney. However, if you sustained any injuries, you need to consult legal counsel you can trust. You may have grounds to claim far more compensation than you might expect, and having the right attorney on your side will significantly improve your chances of success.
Q: How Much Compensation Can I Recover for a Vehicle Accident in San Pedro?
A: You have the right to claim compensation for all the economic losses you suffered in your accident, and you can seek accountability for the pain and suffering you experienced. Other variables could also influence your final case award, but you will need reliable legal counsel on your side if you want to secure the maximum amount of compensation possible for your claim. When you choose Shaffer Law to handle your case, our goal is to help you obtain as much compensation as possible in the most efficient manner.
Q: Can I Still File a Personal Injury Claim if I Partially Caused My Car Accident?
A: California uses a pure comparative negligence law that means a plaintiff still has the right to claim compensation for a personal injury even if they partially caused that injury. However, they lose a portion of their total award, reflecting their shared fault. If you bear partial liability for your accident, the judge overseeing your case will assign you a fault percentage to reflect this. This percentage is then deducted from your case award. Your San Pedro car accident attorney can help minimize any fault percentage you may absorb in your case.
Q: How Long Do I Have to File a Personal Injury Suit for a Car Accident?
A: If you cannot fully recover your damages through an insurance claim against the at-fault driver, you must file a personal injury claim to secure compensation for the remaining losses. The state has a two-year statute of limitations for personal injury claims, so the plaintiff must file their claim within two years of the date their injury occurred, or they lose their ability to file a civil suit against the defendant.
Q: How Much Does a San Pedro Car Accident Attorney Charge for Representation?
A: Shaffer Law keeps legal counsel accessible to those who need it most with a contingency fee policy. With this billing arrangement, a client is not required to pay any legal fees until we win their case. Additionally, their fee is only a percentage of the total amount we recover from the defendant who caused their personal injury. The contingency fee policy ensures that you can have the legal counsel you need when you need it most without the risk of paying more for legal counsel than you win in compensation.
Shaffer Law is ready to provide the comprehensive legal counsel you need to navigate a car accident claim successfully. Our firm has years of experience handling a wide variety of civil suits on behalf of our San Pedro area clients, and we can leverage this professional experience in your recovery efforts. If it's time to explore your options for legal recourse with the help of an attorney you can trust, contact us today to schedule your free consultation with a San Pedro car accident attorney.