Los Angeles Food Truck Accident Attorney
Food trucks are widely popular in Los Angeles, CA, providing a new take on fast food for locals in a convenient and accessible manner. However, food trucks are still vehicles and, therefore, vulnerable to experiencing accidents. Whether you own a food truck and were hit by another driver, or a food truck driver injured you in an accident they caused, you need an attorney capable of addressing the unique details of your case.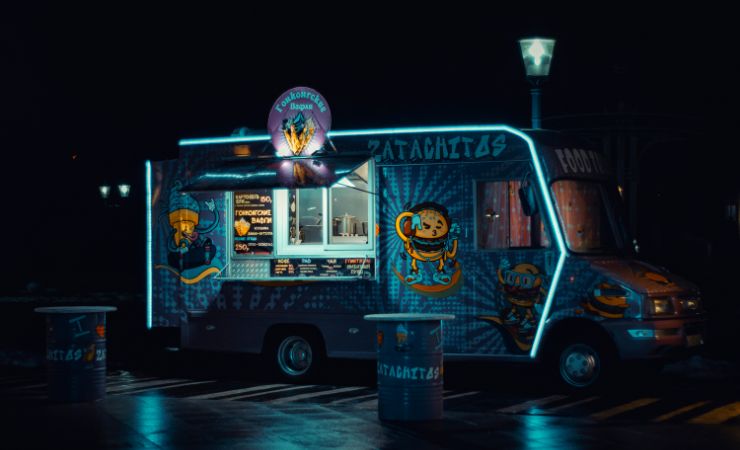 Helping Victims of Food Truck Crashes Recover in Los Angeles
Shaffer Law is a team of experienced Los Angeles personal injury attorneys with years of experience guiding clients through all manner of difficult cases. As food trucks have grown in popularity, so has the rate of accidents involving these specialized vehicles. The recovery process from a food truck accident is likely to mirror that of any other vehicle accident in many ways, but there are unique variables that can come into play that complicate these cases.
Potential Damages in a Food Truck Crash
When a food truck is involved in a motor vehicle accident, the parties involved not only face the potential for injury from the crash impact forces as they would in any other vehicle accident but also risks pertaining to cooking equipment. If the food truck is still operating when another vehicle hits it, this could present a severe fire hazard, and hot surfaces and cooking oils can easily cause devastating injuries to those inside the food truck. These vehicles are also larger and heavier than most standard passenger vehicles, so the physical impact of this type of accident is also likely to exceed that of most other accidents.
If another driver is responsible for causing the food truck accident you recently experienced, you must prove how they caused the accident to hold them appropriately accountable for your damages. Injuries may include severe burns that cause permanent scars, damaged vision, and other permanent harm that will interfere with the victim's life in various ways.
Recovering From Your Food Truck Accident
Recovery from any personal injury in California starts with establishing fault for the injury. Once your Los Angeles food truck accident attorney has helped you accomplish this, the next step in your case is proving the full scope of the damages the defendant caused. Under California's personal injury laws, you have the right to claim compensation for any and all economic losses the defendant caused. This includes immediately recognizable damages as well as anticipated future losses resulting from their actions. For example, you can claim compensation for health care-related expenses and future treatment costs, lost wages, and lost earning potential if the accident left you unable to work.
You can also claim compensation for the pain and suffering the defendant caused, and there is no limit on this aspect of your civil claim. Your Los Angeles food truck accident attorney will assist you in determining a suitable amount based on the total of your economic damages and the severity of any permanent harm the defendant caused. When you choose Shaffer Law to handle your claim, our goal is to help you reach the best results as efficiently as possible.
Los Angeles Accident Attorney FAQs
Q: How Do I Prove Fault for a Food Truck Accident in Los Angeles?
A: Before you can recover compensation for losses another party caused you to suffer, you must prove exactly how they injured you and the extent of the resulting damages from their actions. Proving liability for a food truck accident will require demonstrating that the defendant owed some duty of care they failed to meet and that the accident in question was the direct result of this failure. Your Los Angeles food truck accident attorney can help you gather the evidence needed to meet this burden of proof.
Q: What Happens When Multiple Parties Are Responsible for an Accident?
A: California upholds the pure comparative negligence law, meaning that when multiple parties bear liability for an accident, each party is assigned a fault percentage based on their level of liability for the incident in question. Therefore, if one defendant is found 40% at fault and another is found 60% at fault, these percentages dictate how much of the plaintiff's damages each defendant is responsible for repaying. It is also possible for a plaintiff to bear partial fault, and their fault percentage would be deducted from their total case award.
Q: How Much Pain and Suffering Can I Seek in My Claim?
A: The state does not limit pain and suffering compensation in any motor vehicle accident claim. Your Los Angeles food truck accident attorney will assist you in determining a suitable amount based on the extent of the damage caused by the defendant and whether they caused any permanent or long-term damage. It's possible to seek per diem compensation for every day you spend recovering until you reach maximum improvement, or your attorney could use the multiplier method to calculate an appropriately large lump sum for your pain and suffering.
Q: Will the Defendant Go to Prison for Causing My Personal Injury?
A: It is possible for a defendant to face criminal charges for injuring another party if they caused the injury through an intentional and/or illegal activity. Therefore, if a distracted driver caused your food truck accident, this may not qualify as grounds for a criminal prosecution, but if the at-fault driver was driving under the influence of drugs or alcohol, they could face heavy criminal penalties. Your attorney can advise you as to how the nature of the defendant's behavior could influence your case award.
Shaffer Law is prepared to provide the robust and compassionate legal representation you need for any type of personal injury claim in Los Angeles. Your personal injury attorney is an invaluable asset when proving fault and securing maximum compensation for you. Our firm is confident in our ability to address the unique details of your claim and guide you to the best possible outcome. If it's time to speak with a Los Angeles food truck accident attorney about your legal situation, contact Shaffer Law today and schedule a no-cost consultation with our firm.